The fourth wave of Covid-19 was like a hurricane, sweeping through all over the country and leaving heavy consequences. All transportation activities in Vietnam almost stopped, goods were stagnant; thereby customers face many difficulties.
Thanks to drastic epidemic prevention and control policies and measures, the epidemic situation was gradually under control. "April showers bring May flowers". There will be no rain that never stops. Now everyone is preparing to get back to the NEW normal, both recovering and developing the economy, and effectively preventing the epidemic.
Empathizing and accompanying customers, Isuzu i-TRUCKS and Mix-Sales Dealers (selling light-duty trucks, pickup and SUV) launch a special year-end promotion program called: "Together with Vietnam campaign: Sharing with customers to overcome the pandemic". This program is applying to all Isuzu trucks nationwide.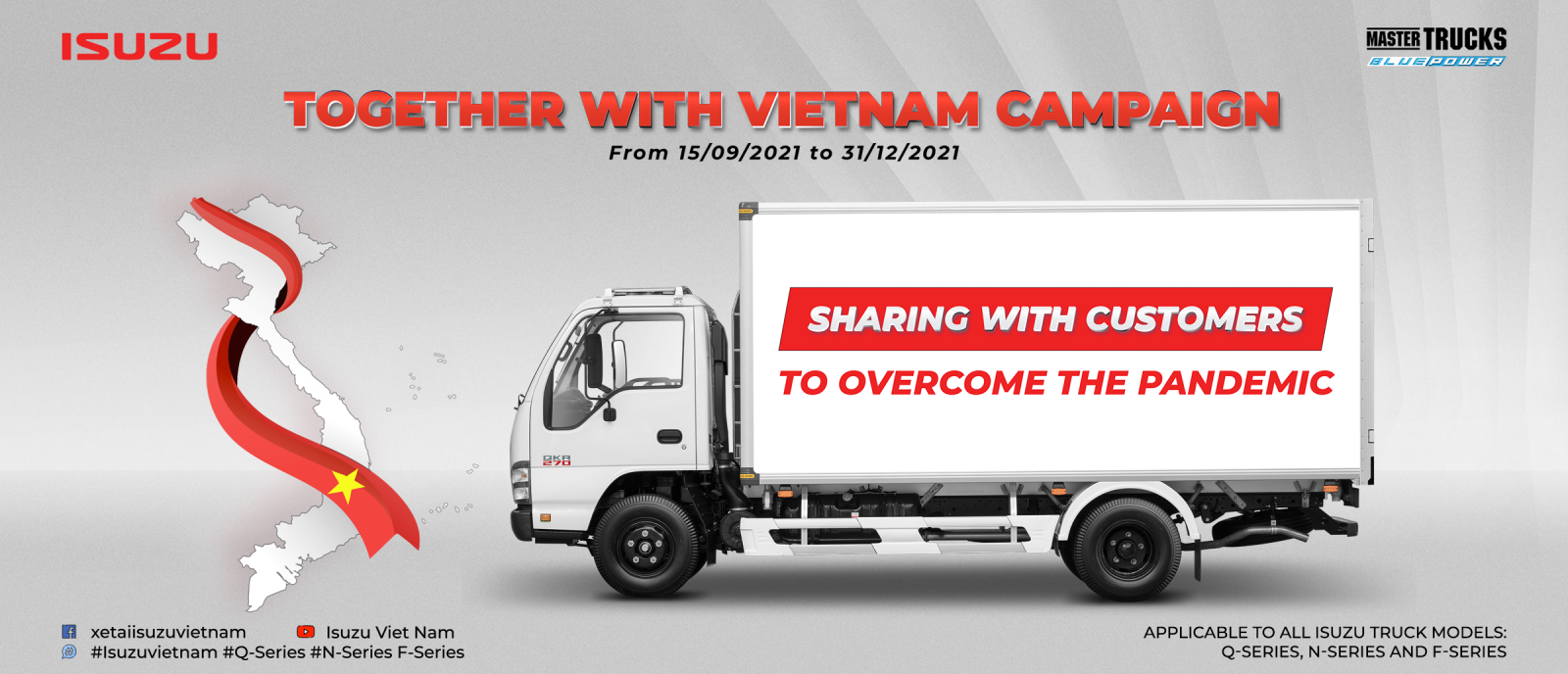 Details information:
The program applies from September 15th, 2021 to December 31st, 2021

Applicable to all Isuzu truck models: Q-Series, N-Series and F-Series

Contents of the program: customers who buy vehicles during the program period will be supported with the fuel norm for each vehicle model as shown in the table below:
MODEL

SUPPORT COST

Fuel Norm

Promotion Value

Liter/Unit

VNĐ/Unit

Q-Series

600

10,000,000

N-Series

800

13,000,000

F-Series

1,000

16,000,000
This promotion program for Isuzu trucks is part of IVC's series of regular customer support activities. At the same time, this is also Isuzu's commitment to accompany customers in Vietnam, in the context that the economy is suffering from negative impacts after the Covid-19 epidemic. In addition, IVC always focuses on applying epidemic prevention and control measures to protect the health of customers who come to see vehicles at showrooms, make transactions and do after-sales service at workshop from our dealers in nationwide.
Isuzu Truck Generation – The king of the Japanese light truck
The king of the Japanese light truck market – Isuzu QKR is equipped with a Diesel engine that meets Euro 4 emission standards and Japanese technology which helps the vehicle operate strongly, with low fuel consumption and high durability; thereby maximizing the carrying capacity and increasing economic efficiency.
Thanks to the affirmation of Japan's quality advantage, Isuzu QKR is trusted by Vietnamese enterprises as a means of serving diverse transportation needs in many different regions, especially the transporting goods in big urban areas.
N-Series – Consumer's optimal choice for the light truck segment

With GVW from 4.99T – 9.5T, Isuzu N-Series offers diverse choices for customers. Isuzu N-Series owns a simple design language but it is very modern and highly applicable with spacious square cabin space and wide viewing angle. The products are equipped with powerful, fuel-efficient, and environmentally friendly Euro-4 emission standard engines.
F-Series – Diversify carrying capacity

Isuzu F-Series is equipped with powerful Euro 4 standard engines covering medium to heavy vehicles. All models are capable of operating well in bad terrain conditions. Extremely good load-carrying capacity, durable and fuel-efficient vehicle.
Discover more Isuzu trucks: https://daithinh-isuzu.com.vn/xetai-vn/
If you have any questions, please contact Isuzu dealers by following the link here: LINK