During over 20 years of serving customers, ISUZU has opportunities to be aside with valued customers in Vietnam nationwide by supplying products, payload and rear body applications including light duty trucks, medium duty trucks, heavy duty trucks, SUV and pick-up trucks.
By slogan ISUZU is always besides you, ISUZU is not only bring good quality products, perfect services, available and reasonable price of spare parts but also take care vustomers by supporting activities and special customer care campaign. Accordingly, in order to express thanks to customers, in 2019, ISUZU officially issue Special Customer Care Program for Fleet Customer with lots of valuable favors. Customers will become Fleet Customers of ISUZU with below conditions: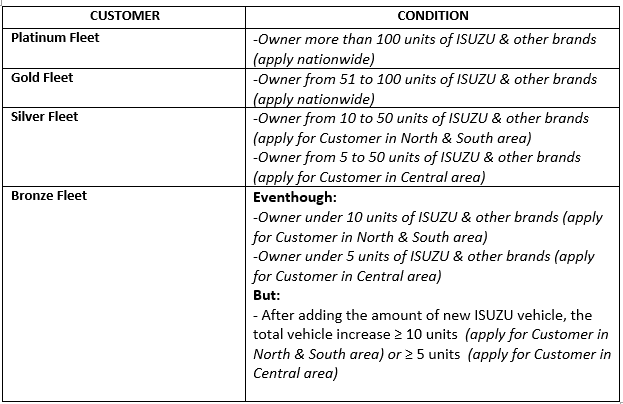 Customers will get special favors when being Valued Fleet Customer:
    1. Sales Support:
Get special sales discount when buying trucks with below quantity:

2. Service Support
Extended warranty for newly-bought vehicles from 3 years or 100,000km to 5 years  or 200,000 km(whichever comes first)
Flexible payment time: Valued Fleet Customers pay for repairing cost, maintenance by 1 month/1 time (depends on the requirement of Fleet Customers)
Big sales discount from 10% to 15% when buying ISUZU Spare Parts.
Apply parity policy with labor cost
​Note: Special favors will be applied based on each type of Valued Fleet Customers. Please contact nearest i-TRUCKS Dealer System to have detail information
Through such long time by being with trust of customers, especially with trust of Fleet Customers such as corporations, multinational companies who are doing businesses in transportation, storage-logistics and supply chain, ISUZU have made absolute trust in quality of products, services and spare parts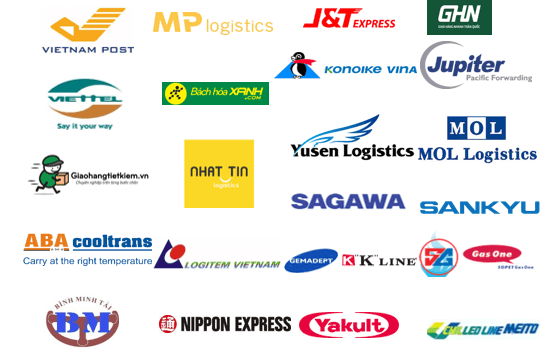 Our Fleet Customers of ISUZU
By strong efforts to be more perfect in customer care activities, ISUZU will create value opportunities for valued customers to enjoy their privilege when using ISUZU and we hope also by these above efforts, Valued Fleet Customers will trust and satisfy with quality of products and services of ISUZU and using ISUZU continuously in near future.