Good news for drivers with promotion from Bridgestone!
From September 15, 2020 to November 15, 2020, Isuzu Vietnam cooperated with Bridgestone to launch a promotion program – when buying Bridgestone tires at Isuzu i-TRUCKS and some D SQUARE Dealers (selling both trucks, pickup, and SUV) customers will receive a fuel card worth 500,000 VND.

As one of the leading tire manufacturers in the world, Bridgestone continues to hold the Top 1 market share in Vietnam and is trusted by many customers. Each Bridgestone truck tire designed and manufactured based on three important criteria: durability – safety – smoothly. The program "Buy Bridgestone tires, receive a fuel card immediately" gives customers more reasons to decide to equip their vehicles with high-quality tires to fully enjoy the moments of journeys with the "traveling companion".
With the message of accompanying customers to overcome current difficult circumstances, the program supports a part of fuel costs in order to strongly energize customers. We hope that customers will really feel satisfied with the quality of after-sales service that Isuzu Vietnam brings to them.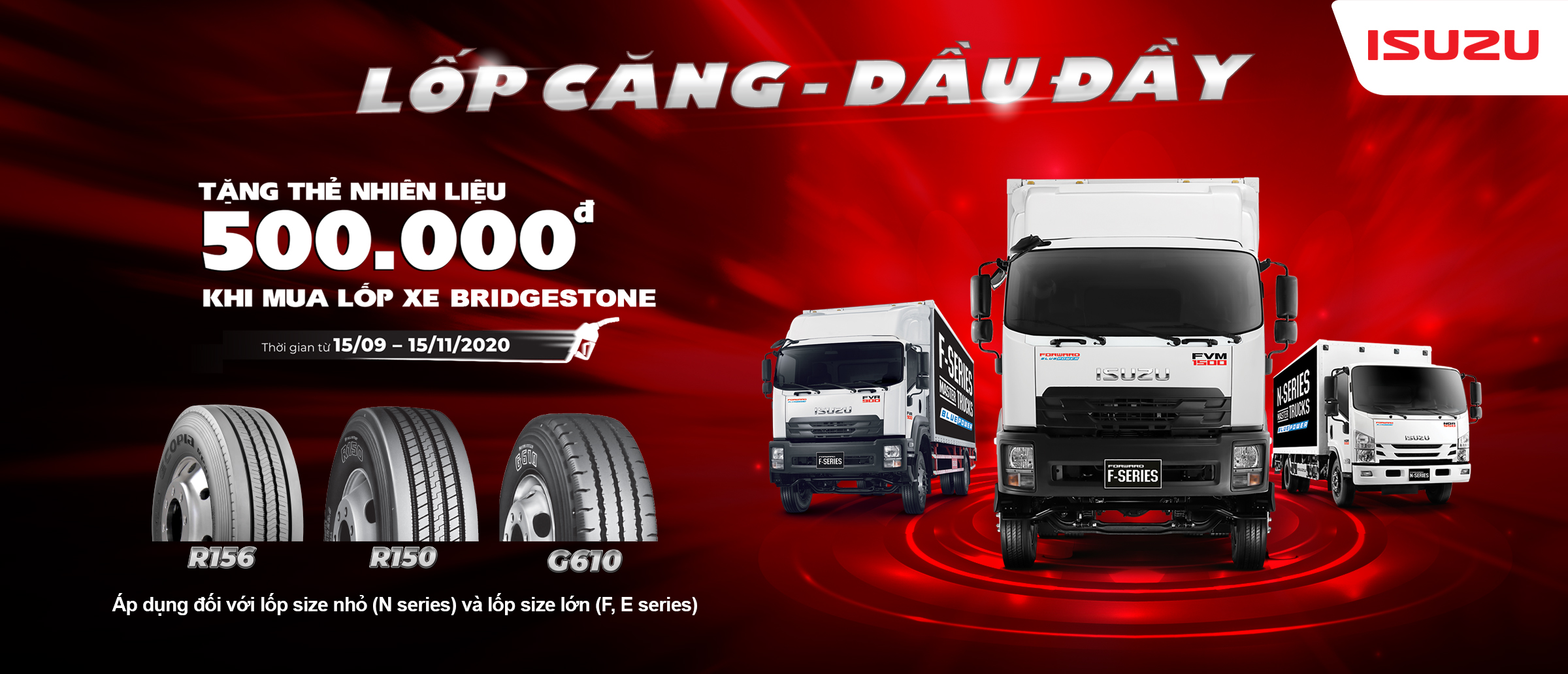 The program is applied at Isuzu I-TRUCKS and MIX-SALES Dealer Network
Details Information:
When purchasing 02 big or 04 small Bridgestone truck tires in the list of 13 products eligible for the promotion, customers will receive a fuel purchase card at the Petrolimex gas station all nationwide worth 500,000 VND. The promotion is applied from September 15, 2020 to November 15, 2020 or until the dealer runs out of gifts.

The promotion applies for 13 Bridgestone tires as follows:
***Note: The fuel card has no cash value
For more information, please contact Isuzu i-Trucks and D SQUARE dealers at the list below:
List of 17 dealers of i-TRUCKS network: https://bit.ly/2GdHWBl
List of 6 dealers of D SQUAREnetwork: https://bit.ly/35AruWu