Isuzu has launched a new 2019 mu-X limited edition in September 6th 2019 with many impressive changes, creating a new and modern attraction in both interior and exterior in SUV segment.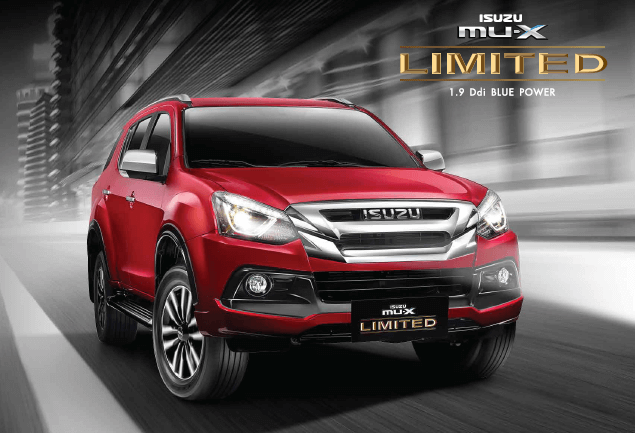 Exterior: impressive and differentBased on the outstanding advantages of SUV Isuzu mu-X 2018, Isuzu has continued to upgrade and launch the 2019 mu-X limited with unique and trendy style as well as sporty look for the user. With an attractive and eye-catching appearance, Isuzu mu-X limited 2019 stands out in the red color and strong black accents. This model is aimed at young people, enthusiasts and looking for differences. Thereby, the Isuzu mu-X limited edition 2019 is expected to create a new change for users when choosing a versatile SUV.
The 2019 Isuzu mu-X limited exterior impress customer from the smallest details with black painted fog lamps and front grille. Front and rear spoiler are all equipped with two tone red-black colors.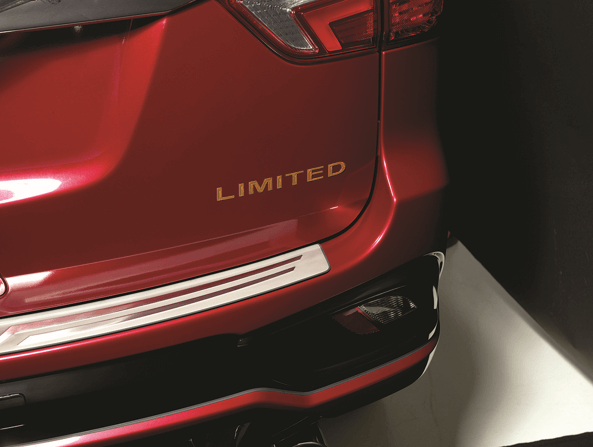 Rear bumper is highlighted by silver bumper garnish and LIMITED gold copper embossed emblem
At the rear of the car, the silver garnish covers the rear bumper, especially the words "LIMITED" of gold copper embossed emblem on the red background makes an impressive highlight for the Isuzu mu-X limited 2019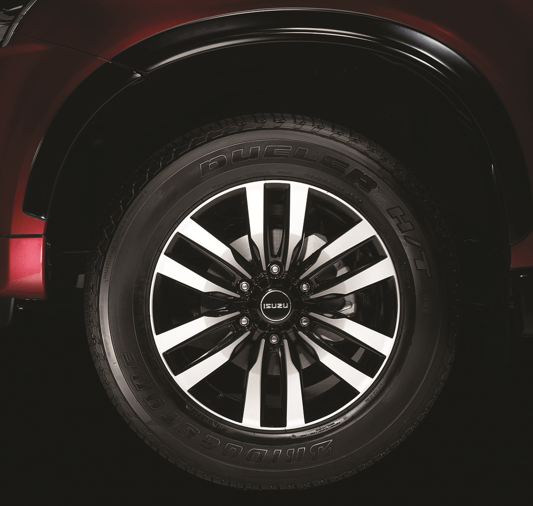 The combination between black fender arch garnish and two tone color alloy wheel increase the strength for mu-X LIMITED 2019
Black fender arch garnish is also an additional equipment for this limited edition. The alloy wheel still remain the same 18 inch with double-spoke 5-spoke axle but are more sophisticatedly designed with 2 main colors of black and silver.
Luxury interior
In terms of interior, the Isuzu mu-X limited 2019 continues to demonstrate the perfection and beauty while maintaining a harmonious overall layout: high-grade Beige leather seats, creating a bright and spacious feeling. ; 6-way electric adjustment driver's seat; dashboard with modern design, multi-information display, function to remind maintenance schedule; Leather-wrapped steering wheel, integrated audio control, hands-free voice and cruise control. It is also equipped with a one-touch intelligent push button, advanced ISUZU Theater System with 10.2 inch touch screen.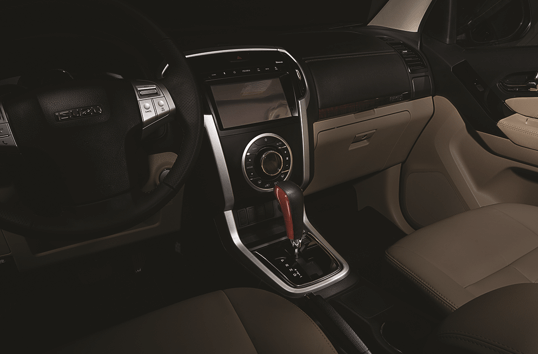 Modern control center integrated instrument panel with new design and hi-end entertainment system with 10.2 inch touch screen.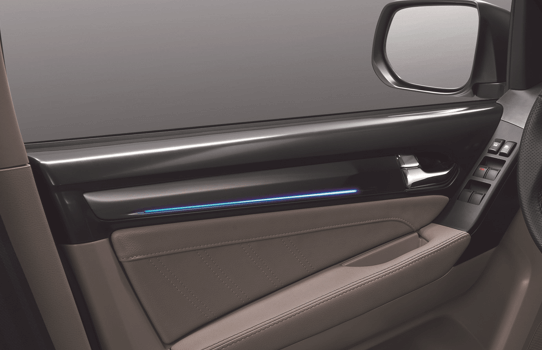 Isuzu adds a luxurious touch to the Isuzu mu-X limited 2019 with a blue door garnish light panel
But the most outstanding performance of the interior is the impressive blue illuminate rocker plate. This blue line with mu-X logo is located in side step have made a difference compare to others vehicle in the same segment. In addition, chrome details such as cup holders and AT shift bezel, along with luxurious key cover for smart keys.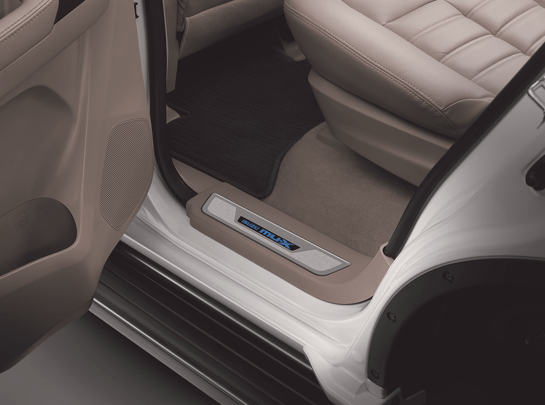 Side step with blue illuminate rocker plate line mu-X brings the luxury image for mu-X limited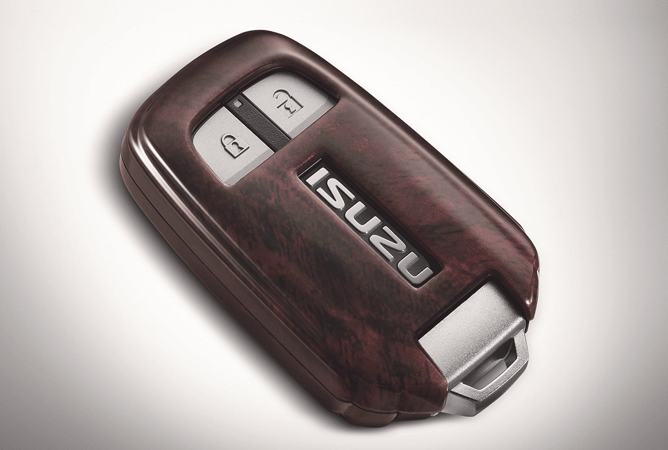 Isuzu mu-X limited 2019 has a smart key for users with key cover
Modern technology platform 
Isuzu mu-X limited edition 2019 is developed based on a strong platform and inherits the engine strength of the 2018 mu-X standard version with Blue Power technology that has been highly appreciated by professionals and users after the actual use time. Isuzu mu-X limited 2019 is equipped with a new generation 1.9L Ddi Blue Power Diesel engine that meets Euro 4 standards to continue to accompany with users, providing outstanding advantages: Improving operating capacity – operation durable – reduce noise – save fuel and environmentally friendly.
Isuzu 1.9L Ddi Blue Power Diesel 150ps, reliable performance, fuel saving & powerful 
The safety of Isuzu mu-X limited 2019 is also appreciated when equipped with 06 SRS airbags, Hill Descent Control HDC besides other safety systems such as ABS Anti-lock Braking System, differential system EBD Electronic Brake force Distribution, BA emergency brake assist system, BOS intelligent braking system, ESC electronic balance system, TCS Traction Control System, HSA Hill Start Assist.
Isuzu mu-X limited 2019 – The vehicle is worth exploring
With innovations based on advanced technology, the Isuzu mu-X limited edition 2019 not only contributes to diversifying Isuzu products, but also offers a interesting choice for young people who want to find a stylish and different car.The Isuzu mu-X limited 2019 not only meets the basic needs of an SUV, but also a place for owners to enjoy the driving passion and pride of owning an impressive vehicle.
INFORMATION BOX