For customers to feel confident with their purchase decision, Isuzu Dealers will implement monthly test drive events. This event is not only an opportunity for customers to directly discover and experience their favorite vehicle model, but also to give questions to the consultants. 
Double advantage, Isuzu also SUPPORTS INTEREST RATE & REGISTRATION FEE up to 40 million VND for customers when buying F-SERIES & N-SERIES from now until the end of June 30, 2023 at Isuzu Dealers nationwide.​
Save now the schedule of the test drive event in June.2023 below & contact the hotline of Dealers for more detail!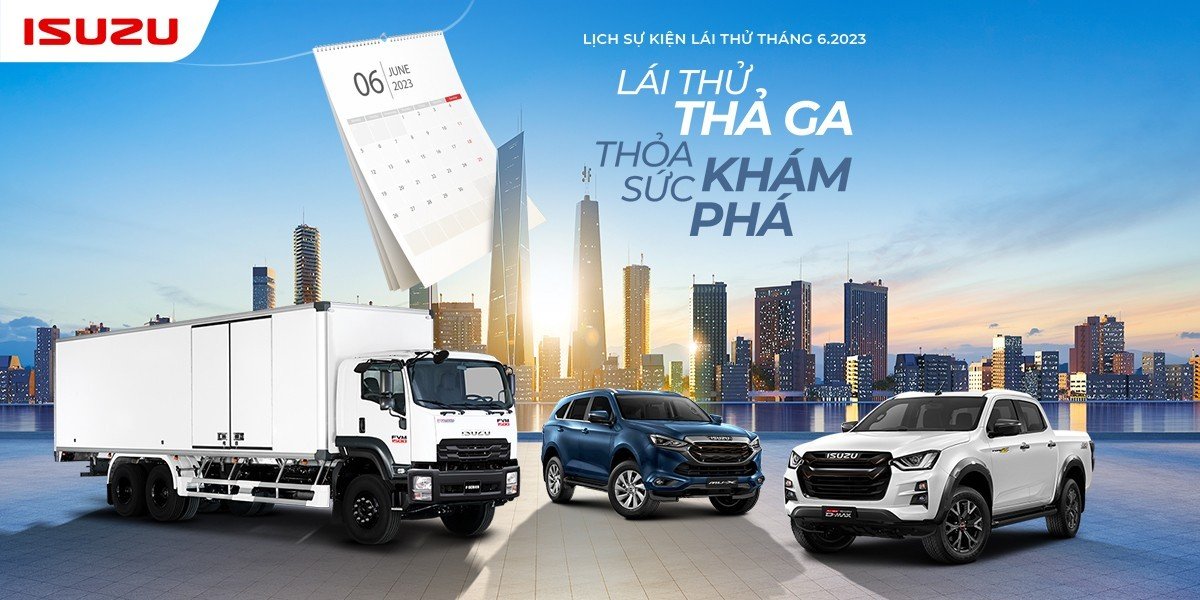 Đại lý ISUZU

Địa Điểm Lái Thử

Thời gian

Xe lái thử

Hotline

Nisu

Cafe Phố Hội, 68 Đỗ Ngọc Du, TP. Hải Dương

15/06

0916.601.601

Tấn Phát

Café 46




232 Trần Hưng Đạo, Phú Mỹ, Tân Thành, Bà Rịa Vũng Tàu

16/06

0911.680.568

Tấn Phát

Café Huyền Thoại




268 Thống Nhất, Lagi, Bình Thuận

17/06

0911.680.568

Hồng An

Buôn Mê Thuột, Đăk Lăk

17/06

0263.3953.959

Lộc Phát

Trung Nguyên E-Coffee




Nhà Khách Tỉnh Bình Phước, Lý Thường Kiệt, Tân Phú, Đồng Xoài, Bình Phước 

18/06

0916.229.922

Hồng An

Enjoy Coffee




Gia Nghĩa Đăk Nông

21-24/06

0262.3953.959

Việt Hải

Huyền Thoại Coffee




254 Thống Nhất, P. Tân Thiện , Thị Xã La Gi , Bình Thuận

24-25/06

0941.982.277

An Việt

Muối Coffee




238 Thanh Niên, Hải Tân, Hải Dương

24/06

0897.565.255

Lộc Phát

Rock-king Coffee Ban Mê




130 Nguyễn Chí Thanh, Phường 3, Tây Ninh

25/06

0916.229.922

An Việt

Mai Chi Mart




KM6, Quốc lộ 3, Sơn Cẩm, Thái Nguyên

11/06

0896.565.255

Bắc Ninh

15/06

Chợ đầu mối Túc Duyên




Bến Oánh, Túc Duyên, Thái Nguyên

16/06

An Lạc

Coffee Sáu Lu




825, Ấp Bình Tiền 2,Đức Hoà Hạ, Đức Hoà, Long An

16/06

0346.705.708

Thanh Thảo

Cafe Nguyễn Hoàng




Số 10, Nguyễn Hoàng, P. Mỹ Hoà, TP. Long Xuyên

17/06

0918.742.383

Nisu

Chợ Đầu mối Nông sản Hải Dương




Gia Xuyên, Gia Lộc, Hải Dương

20/06

0916.601.601

Hồng An

Buôn Mê Thuột, Đăk Lăk

21-24/06

0263.3953.959

Cẩm Phong

Coffee Ánh Ngọc 2




Nguyễn Hoàng, Mỹ Hòa, Long Xuyên




An Giang

24/06

0932.678.369

An Việt

Muối Coffee




238 Thanh Niên, Hải Tân, Hải Dương

25/06

0898 565 255

Cafe Roxana




47 Hùng Vương, Ba Đồn, Quảng Bình

17/6

Q-SERIES, N-SERIES, F-SERIES

0931.937.999

103 đường Cách Mạng Tháng Tám, phường Tứ Hạ, Hương Trà, Huế

24/06

0931.937.999

Việt Phát

Trung tâm huyện Vĩnh Bảo, Vĩnh Bảo, Hải Phòng

24/06

Q-SERIES, N-SERIES, D-MAX

0936.670.336

Tây Bắc Sài Gòn

Sân vận động Hàm Thuận Bắc




418 QL28, Ma Lâm, Hàm Thuận Bắc, BÌnh Thuận

28-30/06

QKR, NQR, FVR




D-MAX, mu-X

0767.000.333

Hùng Phượng

Showroom Đại lý Hùng Phượng




Thôn Riễu, Xã Dĩnh Trì, Bắc Giang, Tỉnh Bắc Giang

11/06

D-MAX, QKR

0944.630.666