Isuzu Vietnam Co., LTD (Isuzu Vietnam) organizes Isuzu Caravan 2023: with the theme "Value Creation Journey" to experience the pick-up truck ISUZU D-MAX & the SUV All new mu-X for customers and media. The journey gives participants the opportunity to discover and fully experience the core values of D-MAX and mu-X on diverse terrains from city roads to highways or mountain passes on a beautiful trip from Hanoi – Moc Chau in 3 days from 11-13/08/2023.
Especially, the trips will combine with the charity program "Isuzu: Heart & Smile" to contribute to the disadvantaged people at AKI Quarter Village (121 Le Thanh Nghi, Thanh Xuan, Hanoi) and Xa Lu Village and Ong Ly Village (Chieng Khua Commune, Moc Chau District, Son La Province).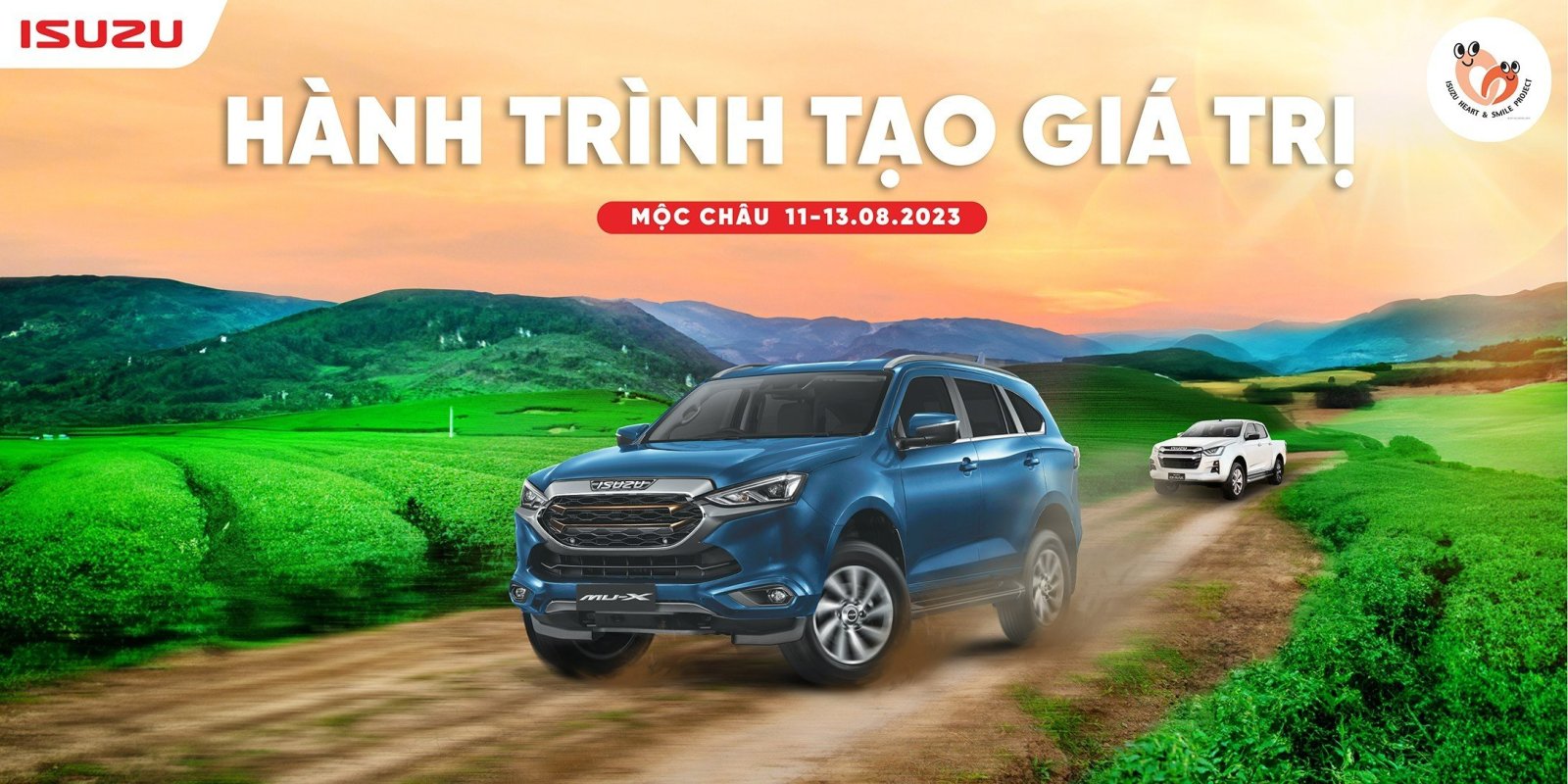 CONNECT-EXPERIENCE-CONTRIBUTE JOURNEY
CONNECT
Over 25 years of presence in Vietnam, Isuzu's products are always highly appreciated by customers with the symbol values from the Japanese brand. Since then, the Isuzu family has grown and expanded throughout the country.
Isuzu Caravan 2023 is a special occasion for Isuzu Vietnam to connect and listen to users more to prepare for future changes and upgrades. At the same time, we hope this journey is also an opportunity for members of the Isuzu family to meet and share their passions and stories about Isuzu.
EXPERIENCE
Join Isuzu Vietnam to conquer the journey to discover the Northwest with the duo: ISUZU D-MAX: The Perfect Truck and All new mu-X: Multi-Utility for every experience.
The 3-day-2-night journey will visit famous places: Hoa Binh Hydropower Plant, Thung Khe Pass, Pa Phach Valley, the legendary S-road, and experience the Isuzu Off-road Contest.
The duo of ISUZU D-MAX and All new mu-X recently introduced by Isuzu Vietnam possess many upgrades from exterior & interior design, ASEAN N-CAP 5 Star Safety technology (leading safety technology) combined with Truck DNA "Durability-Safety-Fuel Efficiency-Environmentally Friendly". All those values will bring an entirely, safe and enjoyable experience for all guests.
CONTRIBUTE
Within the framework of the Isuzu Caravan 2023 journey, Isuzu Vietnam will bring the charity program "Isuzu: Heart and Smile" to difficulties in AKI Quarter Village (121 Le Thanh Nghi, Thanh Xuan, Hanoi) and Ong Ly and Xa Lu villages with practical gifts, and support to people in this area.
With all those purposes, Isuzu Vietnam hopes Isuzu Caravan 2023 will be a Value Creation Journey, not only for the participants but also for the places we have the opportunity to visit, for the society and the community in Vietnam
MORE ACTIVITIES TO EXPERIENCE ISUZU D-MAX AND mu-X IN 2023
In early 2023, Isuzu Vietnam officially introduced the ISUZU D-Max 2023 and mu-X 2023 models with some outstanding changes.
ISUZU D-MAX 2023 – The Perfect Truck
– Exterior with elegant design, but also very strong and sporty: a unique combination of organic and inorganic shapes creates a powerful and attractive appearance.
– Sturdiness and modern interior – high-quality facilities: The interior design focuses on easy use, overall flexibility of function, and high-quality leather materials bring comfort throughout the journey.
– Diesel Turbo engine for optimal fuel economy and toughness: Most customers' evaluation of the ISUZU vehicle is fuel-efficient because ISUZU's innovative philosophy always comes with the practical needs of customers and toughness for off-road purposes.
mu-X 2023 – Multi-Utility for every eXperience
mu-X 2023 is also optimized with an elegant, luxurious, and dynamic appearance for family purposes such as camping adventures and picnics. Similar to ISUZU D-MAX, mu-X is equipped with many safety features, the leading spacious interior in the segment, luxurious leather seats, 8-way electric driver's seat with back support suitable for everyone.
– Smart technology – Outstanding safety: modern technology and safety are the important criteria that ISUZU sets for ISUZU D-MAX and mu-X. Therefore, customers are completely assured when using ISUZU vehicles.
Through testing ISUZU D-MAX and mu-X 1.9L engines on different roads: off-road, rough road, and hill sand, ISUZU hopes customers can see the outstanding operation performance, durability, and fuel efficiency of ISUZU vehicles while being innovative, but still keeping the practicality.
Together with Isuzu Caravan 2023, in the coming time, Isuzu Vietnam will continue to carry out many displays & test-driving events, and gratitude activities to bring the duo ISUZU D-MAX and All New mu-X closer to customers.
Besides upgrading products to meet customer needs, Isuzu Vietnam is still trying to support Isuzu users in Vietnam with many practical policies and activities:
– Warranty Policy 5 years or 200,000 Km
– Customer Care Maintenance Program and Isuzu Care mobile application
– Expanding & upgrading the business model of the nationwide Isuzu Dealer system
– A team of highly qualified, professional, and well-trained technicians.
Follow Isuzu Vietnam on all platforms to update information about upcoming programs and events.
ISUZU VIETNAM